Multiple styles, diverse clothing pieces and a lot of hustle when dressing up for a show. Are you one of those parents who face such issues? Fret not as we have assorted a list of street fashion clothing for kids, particularly boys.
Clothing for boys has always been a topic to discuss because many of you usually get confused with the outfits. Alluring outfit ideas are a must if you want your child to be a model or actor. The head-turning outfits listed below are a glimpse of how you can dress up your baby boy in a sophisticated manner. Let's have a look.
1. Chic blazer outfit – Street fashion for kids.
Street fashion and modish style couldn't get better with this enticing outfit. Boys look drop-dead gorgeous when they pair a white shirt and jeans with a stunning Velvet Blazer. Isn't this a fetching and photogenic outfit?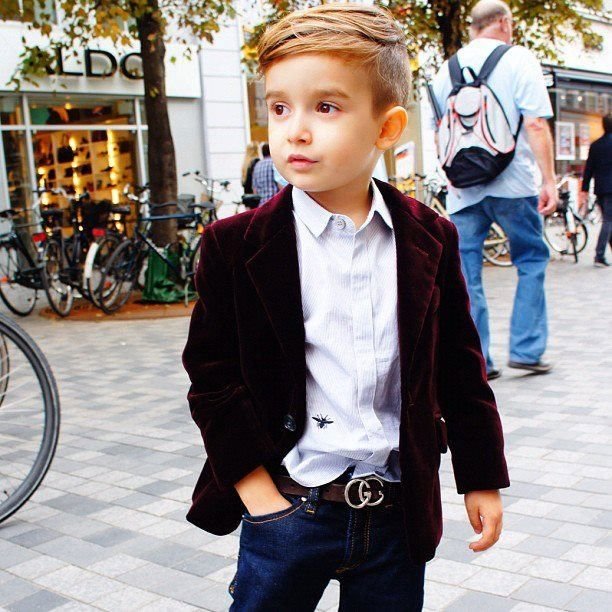 A stylish belt compliments the entire outfit and makes your child look like a Model. If you are anyway planning to get our child into modeling then, these street fashion outfit inspirations will help.
2. Polo t-shirt and chinos for a sophisticated look.
How about rocking a flawless outfit for your auditions? This one is exactly the one you need for your child. Polo t-shirt styled with beige chinos looks splendorous and basic. It is best to pair goggles & loafers with this outfit for an impeccable look.
Your child will love the comfort of this outfit. A sassy yet so classy outfit with no-fuss detailing.
3. Red hot alluring outfit – Street fashion.
Street fashion couldn't get better with this one-of-a-kind outfit for boys. If you want to make your child look dope in his modeling or acting auditions then, opt for this look. A classic black tee paired with jeans which involve checkered shirt tied on the waist.
Tan boots are an amazing addition to this outfit. The classy outfit for kids never goes out of rage.
4. All Black outfit – street fashion for boys.
To all the parents out there, this look is a winner. Kids modeling auditions always ask for casual yet very appealing outfits. This all-black look is ideal for your kids. A classic black shirt paired with black jeans and sunglasses utters vibrancy & phenomenal stylish trend.
Add a sophisticated belt to elevate the look and make it look enticing.
5. Easy-going outfit style – Denim shirt with jeans.
Never say "NO" to casual attires because they enrol super comfy fit which is modish and appealing. All you have to do is pair a classic denim shirt with knee ripped jeans. A typical yet elevated outfit which is hassle-free and is preferred for almost all occasions.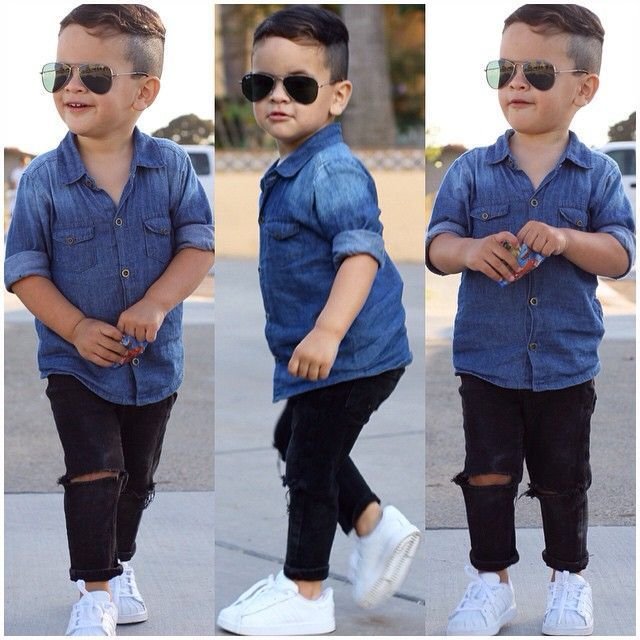 White sneakers are the highlight of this basic outfit. So, don't skip that.
If your kids are on the way to build their modeling career or are willing to catch the camera's attention then, these outfits are everything for them.
Kidiezone not only enhances your child's career astoundingly but also enrols them for modeling auditions with reputed production houses which is like a dream come true.
4881 total views, 2 today